Arlington Heights Divorce Lawyer
Making the decision to end your marriage is surely not one you'll come to easily. And perhaps equally difficult is knowing how to navigate the divorce process once the decision to split ways has been made. At the law offices of Gordon & Perlut, LLC, our Arlington Heights divorce lawyers are here to represent you and make sure that your interests are protected. Call our law firm today for help pursuing your divorce or settling issues in your divorce.
Illinois Divorce Laws: What You Need to Know if You're Filing for Divorce in Arlington Heights
Before you can file for divorce in Illinois, it's important to understand what the laws are regarding a dissolution of marriage. Keep the following in mind:
Residency requirement. Residency requirements must be satisfied before the court will accept a petition for dissolution of marriage. At least one spouse must be a resident of the state for a minimum of 90 days prior to filing.
Grounds for divorce. When you file your petition for dissolution of marriage, you must state the grounds on which you are seeking your divorce. Illinois is now a no-fault divorce state, which means that you will file based on the grounds of irreconcilable differences. According to Illinois divorce laws, if the parties have lived separate and apart for at least six months, there will be an irrebuttable presumption that the requirement of irreconcilable differences has been met.
Filing fee. Note that when you file for divorce, you will have to pay a filing fee.
Navigating Tough Issues in a Divorce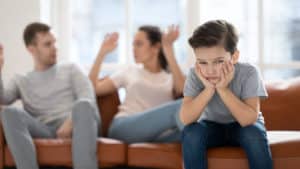 Once your divorce has been filed, there are numerous issues that must be resolved in the divorce case before the divorce can be settled. This includes:
There are typically two different ways that these issues can be resolved: through out-of-court negotiations and/or mediation involving each party, or through divorce litigation. The former option is strongly advised; if you and your spouse can work together to resolve issues, your divorce case will conclude faster and will be less expensive. Of course, this is not always possible for couples, particularly those in an especially contentious marriage. For these couples, litigation may be necessary.
Work with an Experienced Arlington Heights Divorce Lawyer
As you think about divorce and start the process of filing or responding to a petition for dissolution of marriage in Arlington Heights, be sure to consider the value of working with an attorney. Even if your divorce is relatively amicable, having a lawyer on your side who can review your divorce settlement and advocate for your interests can protect you in the long-term.
At the law offices of Gordon & Perlut, LLC, our Arlington Heights divorce lawyers are available to sit down with you and discuss your divorce case at your convenience. Reach out to our law firm today by phone or online to get started.